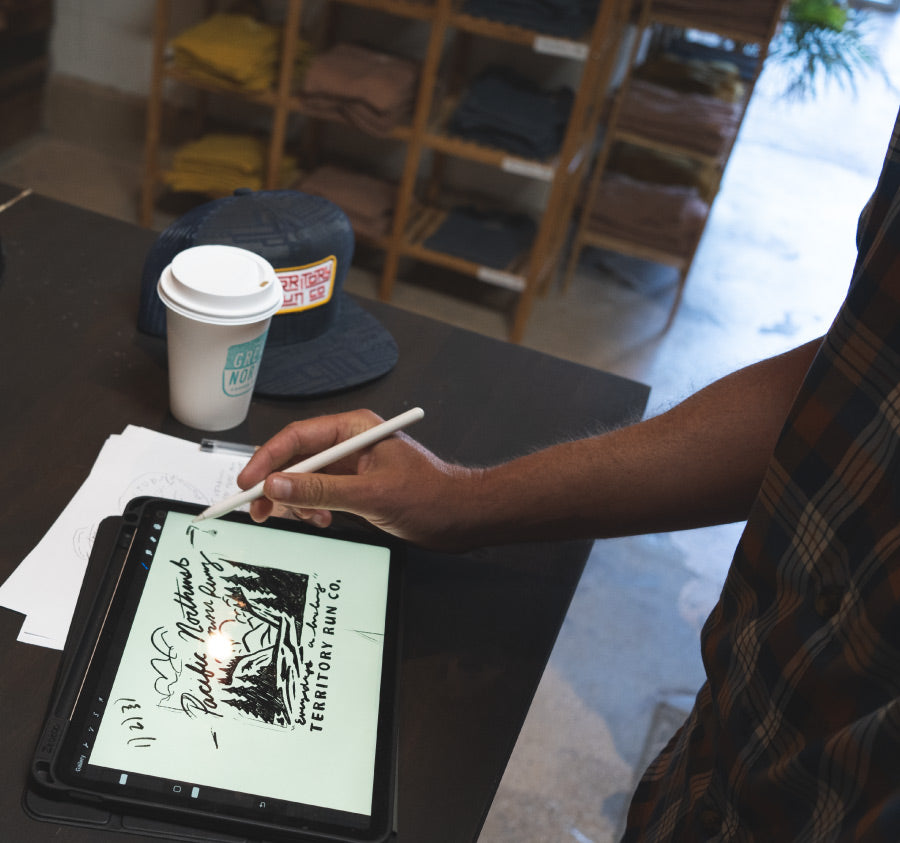 By Brett Farrell
Designs by Johnny Bertram
Nine years ago, I was working at my dining room table struggling to try to figure out how to come up with the first t-shirt design for Territory Run Co when I wasn't an artist. I had never designed any piece of art in my adult life so it was a matter of learning how to convey a vibe and style to the person who was actually putting pencil to paper. 
I knew I was seeking to portray the inspiring lifestyle of the many trail runners I came across. I wanted to create that perfect vibe and it was hard to pack all that into a design. The creation of designs has ended up being a fun process that has been an ongoing journey. Nine years later, I'm still working with designers to come up with new designs that represent our community and I am excited to share with you what's to come this fall. 
We are releasing four new designs by Johnny Bertram that portray the vibe of trail running in the Northwest and beyond.  Johnny brings my loose concepts into beautiful artwork that I am proud to print on our tees, hoodies and hats. These designs are what carry out the soul of this brand.
The Beginning. Oregon
I was watching the Prefontaine Classic track meet on TV in 2001 and saw Alan Webb break the high school record in the mile. I saw images of Oregon, its coastline and mountains and after seeing the Prefontaine movies that came out in the prior years, I became obsessed with the idea of seeing Oregon for myself.  When I ended up moving to Portland eight years later I got a job at a running shop and it propelled me further into the culture of this amazing sport in Oregon.
I had envisioned making running apparel in Oregon since the beginning of Territory Run Co.  As many consider Oregon the birthplace of U.S. running, the idea of Oregon-made running apparel, from design to the actual cut and sew production, was incredibly exciting to me. 
This fall we are doing it. 
We are in the process of producing our All Day Tees and new All Day Hoodies right here in the state of Oregon.  
To celebrate this, we will be releasing an Oregon trail running design. 
I am grateful for this state, its natural beauty and the history of running here. I am proud to say that we are carrying on the legacy by producing running tees made in Oregon. 
Look out for more to come on these MADE IN OREGON tees.
The Exploration. The Pacific Northwest 
I may be biased, but I believe the Pacific Northwest is the absolute best place to live in the U.S.
The moody weather, the forests, the mountains, the ocean, the lakes. The Pacific Northwest is a special place to call home. 
It's why I moved here. 
This part of the country gives a lot to many of us trail runners. We are offered so many incredible spots to get out and explore the natural world. The volcanoes, gorges, rainforests, rugged mountains and coastal trails give us an endless amount of terrain to run through. 
It feels like a place to be on holiday 365 days a year so we made a postcard style design that celebrates the allure of this beautiful pocket of the world.
The Lifestyle. The Trail Running Brand
I ran my first trail race at the Bighorn 50k in Wyoming. It was a powerful experience running the beautiful trails of northern Wyoming alongside runners from around the country. I found it to be a completely different race experience from what I was used to. I was having conversations with other runners on the trails, they were stopping to take photos of the views and I didn't feel the competitive drive as I did in road races. The expansive natural world around me and these awesome people transformed my experience. 
I left that weekend feeling a sense of belonging as a trail runner.  I was proud that I had accomplished a new distance and felt I had found my people.  
As I got more into trail running, I felt that this group of badass yet chilled out people didn't have a brand that represented their true nature. They didn't fit with the uber techy brands or the vibes of the super competitive brands. All of the branding I saw out there at the time was about the sweat and pain of running, being your best self and all that bullshit.  
Yes, I know, it's part of it but it's not the whole story. I was meeting trail runners who didn't give a damn about showing off how much pain they can put themselves through and gave everything to experience the feeling of being out there, traveling through the mountains and tapping into a freedom that you don't find in our modern lives. 
This is what I saw that a trail running brand deserved and what I worked so hard to put into Territory Run. It's a story of trail running that goes further than just sport. It is the mentality of wishing to spend more of our time outside in the wild where we feel more at home. And our goal as the trail running brand is to inspire our community to get out and feel wild as much as possible in their lives.