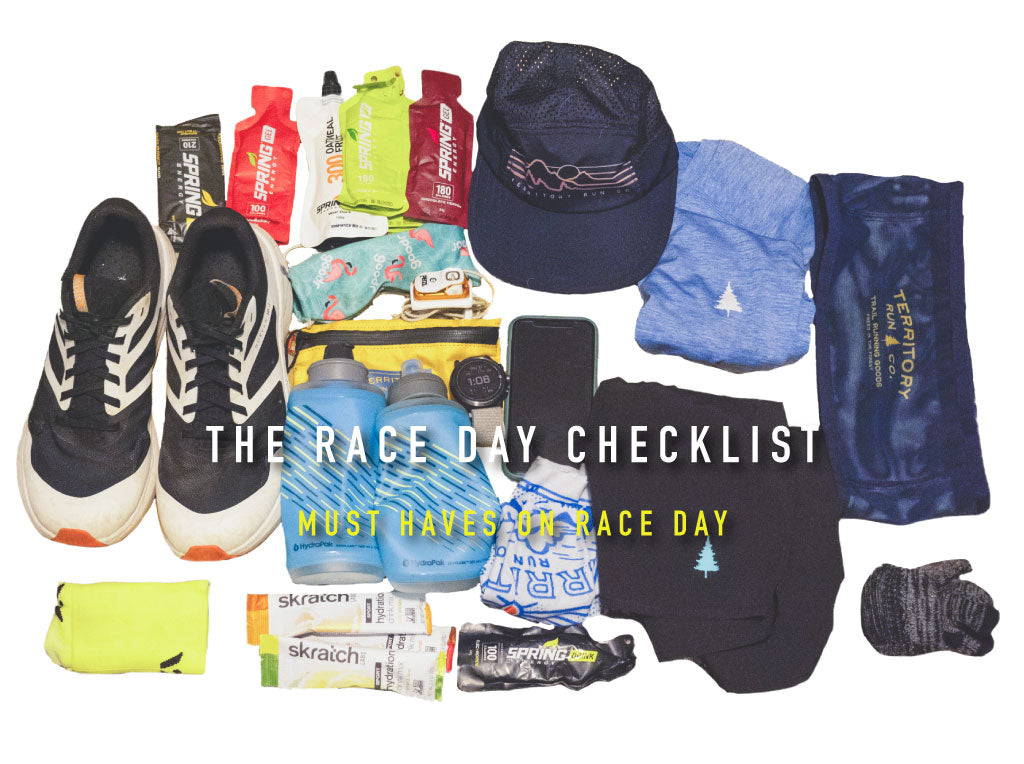 Preparing for a race can be a stressful process of packing and repacking trying to make sure you have every last thing you might need for race day. The trick to a proper race day kit is to have "just enough". It's a delicate balance between streamlined efficiency and comprehensive 'just-in-case' items.  
In the end, it's up to you to determine your level of comfort with minimalism. Your strategy will, and should, change depending on distance, terrain, weather, aid stations, drop bag availability, and personal experience. 
I recall in my early days of racing having the brilliant idea of carrying everything I could need in my pack so I could just blow through the aid stations. Well, one 4L water bladder later and it occurred to me that perhaps carrying 8 pounds of water with me is not the greatest race strategy.
To help take the stress out of your race prep, we've created a modular race day checklist to help you make sure you've covered your bases.
Essential Gear
Trail shoes; choose a comfortable pair with good traction for the race terrain
Moisture Wicking Socks
Performance Apparel; lightweight, moisture-wicking clothing suitable for the weather
Pack, vest or belt; this will depend on personal preference, distance, and how much you plan to pack
Water Bottles; these can be bottles that fit in your running vest/belt or handheld bottles. Again, this will partially depend on personal preference and whether or not you are using poles.
Headwrap; this is my secret utility weapon. It can be used to wrap around your ears or nose in cold weather. It can be wrapped around your wrist to be used as a sweatband in warm weather.  It can be dipped in water to cool you down in the heat. It can be wrapped around a water bottle to convert it into a handheld bottle. I've even used it to stop the bleeding after taking a tumble on the trail. It's an essential part of my race kit.
Hat; choose a hat appropriate for the weather.
GPS Watch; While some prefer to not wear a watch, this is perhaps the one piece of gear I'm most likely to forget in my packing frenzy.
Nutrition
Gels, bars or other food; depending on the race distance and intensity, you should be aiming to consume 150 to 250 calories per hour. This can be consumed in gels, bars, candy, real food or liquid nutrition. Make sure to research what the aid stations will have on race day and practice with it before the race or make other plans to pack your own nutrition.
Electrolyte Supplements; Many people like to pack an electrolyte drink mix that they can add to their water. Most races will also provide an electrolyte drink at aid stations. Again, be sure to research what will be available prior to race day.
Cold Weather Gear
Windbreaker; Choose a lightweight windbreaker jacket that can easily be packed away. It's not uncommon for temperatures to vary drastically at trail races. If it's really cold and nasty, consider bringing a GoreTex jacket.
Gloves; I've seen many trail runners unable to open a gel or take the top off their water bottle due to cold hands. Keeping them warm can keep you running smoothly on race day.
Extra Clothing; if it's wet and cold, you may want to consider packing extra gear. If the race allows drop bags, I will often pack a fresh shirt, gloves, buff and socks. 
Arm Sleeves; I've found arm sleeves to be a great way to handle a race with a cold start. I hate being too warm when I'm running, and starting with arm sleeves allows me to avoid being too cold for the first few miles of the race. They usually pack up small enough that they're easy to stash away as the temperature rises.
Warm Weather Gear
Sunscreen; depending on the length of the race, applying sunscreen at the start may not be enough. Consider packing sunscreen in your drop bag or a small bottle in your pack. Keep in mind that many trail races are at higher elevations that put you at increased exposure to UV.
Sun hat; The right hat can help keep you cool while keeping the sun out of your eyes. If it's really warm, I like to dip my hat in creeks or fill it with lingering snow to cool off.
Sunglasses
Other Gear
Headlamp or flashlight; this may be necessary for an early start or a race that could extend into the night. At the very least, I usually bring a headlamp for race check-in. Don't forget the extra batteries!
GPS Track; having the race course on your phone or GPS watch (ideally both) can be a life saver. It's not uncommon for course markings to be confusing or vandalized. Having the route with you can give you an extra layer of confidence that you're on the right track. 
Trekking Poles; if the course has a lot of elevation gain and loss, you may want to consider bringing poles. Keep in mind that you will want to practice with poles prior to race day and that they may not be for everyone. 
Chafe balm; a small container of chafe balm could save your race. This is an item that you only need when you need it. Keeping it in a drop bag usually doesn't work because chaffing can happen suddenly and progress rapidly. Predicting when and where you will need chafe balm is nearly impossible.
MY SPECIFIC GEAR LIST
So now that we've gone over some of the common gear you might want for race day, I thought I would share my most common race day kit.  
Trail shoes: I prefer the Arc'teryx Norvan LD3 for their traction and protection.  
Socks: I like a lightweight crew length sock that drains well. I usually use Swiftwick Aspire 4
Shorts: The Territory Long Haul Shorts are a great streamlined short. They're lightweight and offer a little extra storage.
Shirt: The Territory Long Haul Tee is my preferred performance shirt that prevents me from overheating during the race.
Hat: I almost exclusively wear the Territory Long Haul Cap.  I love the fit, look and breathability. On hotter alpine races I will wear the Territory Bucket Hat to help protect against the sun even more.
Running Belt: I prefer to travel light on race day and stick with the Territory Long Haul Belt. It has 3 large pockets that can fit a water bottle, nutrition, phone and keys with room left over for a few other necessary items. If I'll be running through the night or the weather is particularly rough, I will bring a vest. Lately I've been wearing the Arc'teryx Norval 7L vest. 
Handheld: I absolutely love the HydraPak 500ml Skyflask. I will usually bring two depending on the distance between aid stations and the weather. In some instances I've brought just one. They are handheld and have a locking cap on them. The locking cap means I can easily stash a full bottle in my Territory Long Haul Belt. 
Nutrition:  I tend to try to eat two Spring Energy gels per hour. My favorites are Awesome Sauce and Canaberry. Depending on the aid station offerings I might try to pack extra gels. This is where the storage pockets on the Long Haul Shorts come in handy. For electrolytes I will usually just take whatever the aid station has on hand. If it's really warm I will also bring a pack of SaltStick FastChews. These are an easy indicator if I need salt. If I take one and it tastes too salty, I'm doing well. If I take one and it tastes like a Sweettart, I know that I probably need more salt and will take another FastChew. 
Watch: I use a Coros Apex Pro with the race course loaded on it. It's nice to see where I am in the elevation profile and to see how much further I have until the next aid station. I also have it set to beep every 30 minutes to remind me to eat. 
Headwrap: I always bring a Territory headwrap as it serves a multitude of purposes.
Headlamp: I swear by the Petzl Bindi if I know I only need a few hours of light.  This is great for race check-in or a pre-dawn race start. It's not the brightest light or the longest lasting, but it's extremely minimal and stows away nicely when you no longer need it.