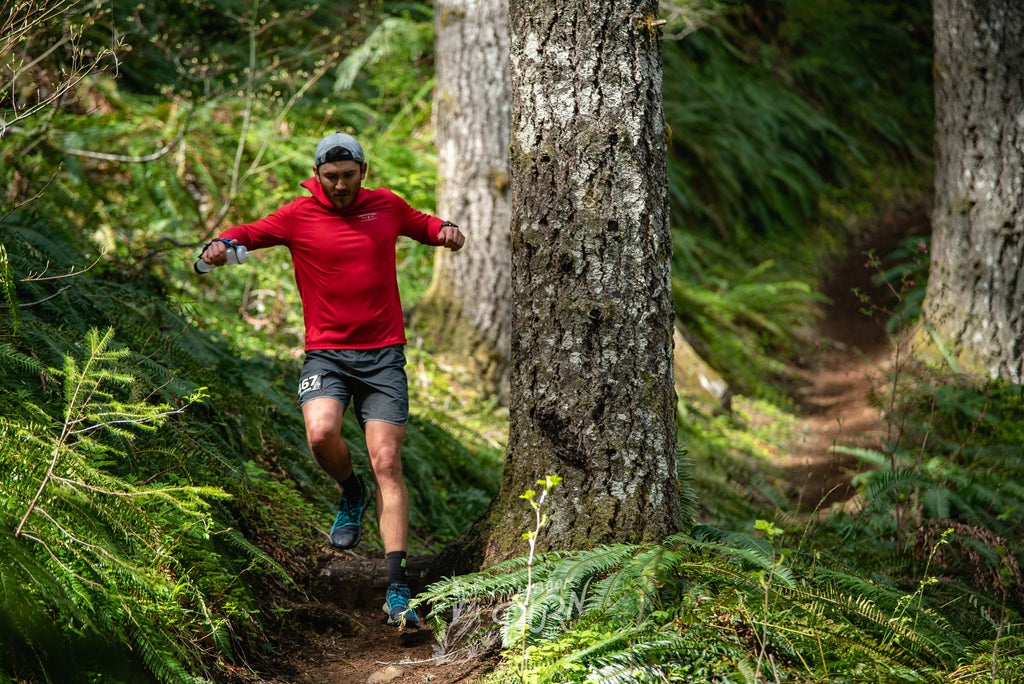 Welcome to the new Territory Community Feature Series! We want to recognize inspiring runners in our community, so we created this platform to share their stories.
Last week we caught up with our own Thomas Hayes to learn a little more about his background, running goals, and advice for new runners. 
First off, can you tell us a little bit about how you started working for Territory? What was your work background previously?
I did 13 years in the Air Force and separated in 2017 as a Master Sergeant. 10 of those years were in the Security Forces career field and my last 3 were in Intelligence. I always figured I would do 20 years and retire but the deployments and being gone a lot were taking a toll on our home life, so my wife and I decided it was time to leave. I found Territory while we lived in North Pole Alaska and just really connected with the brand. My wife and I are originally from the Oregon Coast and I lived in Portland for about 11 years growing up so the fact that it was a local brand was attractive to me. When I separated, we moved back down to the Portland area. I met Brett at some Territory events that first year and when he posted a job opening, I thought it sounded like a fun gig. The flexibility fits well into our schedule and allows me to drop off and pick up the kids from school each day which is very important to us. 
How long have you been running and how did you get into it? 
I started running track in Middle School and then ran a few years in High School and one year of cross country. I basically stopped running for anything other than what was required for my job after that.  My amazing wife joined an after work running group in 2010 and got me to go with her which kind of got me back into it. I would say I got serious about training in 2015.
I know that you run a lot of trail now days, but were you ever into road running?
I was always more of a road runner. I ran the 400, 800 and 4x400 in school and always preferred shorter stuff like 5K and under. After I got back into running, I had decided that I wanted to run a marathon because my dad had done one back in the early 80's and I thought if he could do it than I could as well.
How did you transition from road to trail?
I was always into hiking and when I realized that people actually ran on the trails it was kind of just a natural transition. Once I started trail running, I basically stopped running on the roads altogether. It wasn't until just this past Fall that I started to get back into some track workouts and tempo stuff on the roads. I had forgotten how good it can feel to run fast. 
Do you train with a coach?
I do not use a coach mostly because I can't justify spending the money to myself. My training is very loose, and I basically just run when I want to and rest when I need to. Some weeks I have a target mileage but if I don't get there or go over it isn't a big deal to me. 
What has been your biggest obstacle in running and how have you overcome it? 
Injury has always been the biggest obstacle for me. I seem to have to take a month or so off each year because of one injury or another. I wouldn't say I've overcome it but trying to make myself stretch and do some strength work has helped for sure.  
What are you most proud of accomplishing in regards to running? 
That's a tough one. I would say doing Rim to Rim to Rim a few years ago in the Grand Canyon with a bunch of friends is pretty high up there. I also had my first legit top 10 finish in a trail half marathon this past November. 
What are your goals for your running in 2020?
Race wise right now I'm signed up for the Howl 1/2 marathon and Backcountry Rise 20 miler. I'm also working on getting out the door to run at least 3-4 days a week and I'd like to set a PR on a road 5k, 10k, and Half Marathon. I have some longer adventure runs planned out for later in the year as well.
What is your advice for someone new to running? 
Don't get caught up trying to keep up with friends or think that if you don't sign up for an ultra right away that you aren't a real trail runner. Comparing yourself to other runners is generally a bad idea. 
Rapid Fire!
Favorite run food/fuel? I honestly hate eating while running but I can stomach some Spring Energy gels if I have to. 
Favorite route you have ever run? Can I have two? Rim to Rim to RIm or the Enchantments, they are so different but both great.
Favorite running shoe? Nike Wildhorse
Favorite jacket for wet/winter runs? Patagonia Houdini
Music or podcast while running? I don't use headphones while running 
 Do you prefer to run solo or with friends? It's always more fun with friends! 
Favorite thing about running? I can do it anywhere
Dream run? Tour Du Mont Blanc
Photos by: Steven Mortinson 
Do you know a runner who deserves to be recognized? Email your nomination to: larissa@territoryrun.co