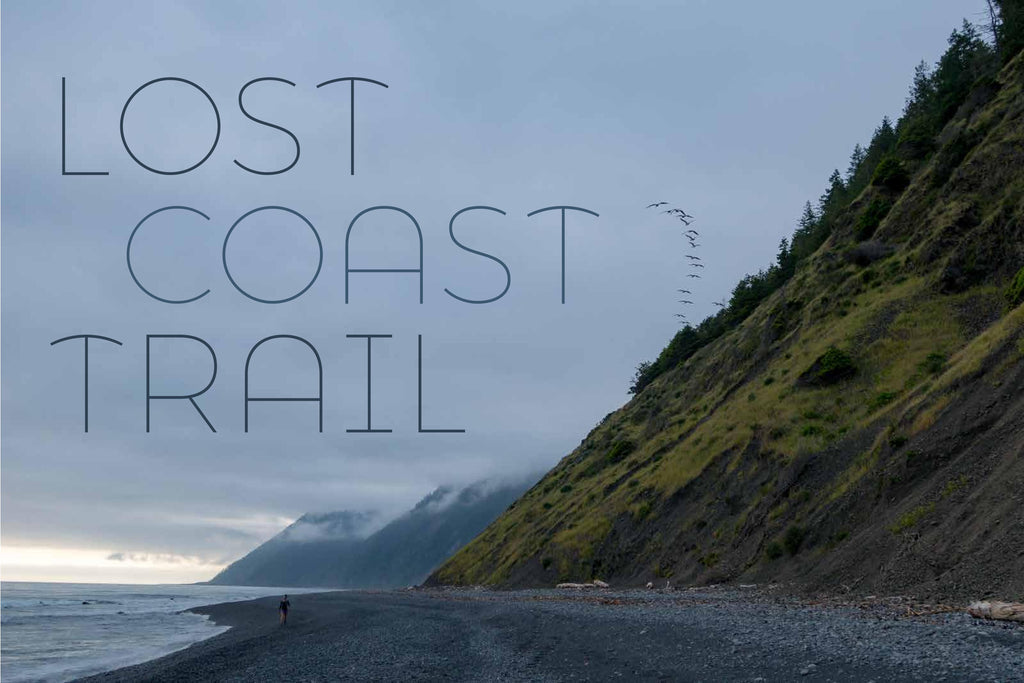 The Lost Coast Trail is one of the world's premier wilderness beach treks. Located on a remote roadless stretch of the Northern California coastline, this 55 mile trail follows the path of collision between the land and sea.
To run this trail is to experience rugged and stunning beaches, sublime ocean vistas, spectacular sunsets, and the diversity of creatures whose life exists in the primeval intertidal universe.
This trip is a multi-day supported run where all of the gear, food, beverages, and logistics are handled by our friends at Aspire Adventure Running. Aspire organizes single and multi-day running adventures in wilderness terrain across Cascadia and Northern California. They provide logistical and emergency support paired with delicious meals and community for a unique and memorable backcountry running experience.
This three day, four night adventure run is no walk in the park, especially without the support of Aspire, the Lost Coast Trail is a extremely difficult logistical game. There is a reason why this stretch of coastline is inhospitable. There are no houses, no traffic jams (aside from the slow moving, narrow, rutted out dirt roads that twist and turn for hours). This is the longest stretch of undeveloped US Pacific coastline outside of Alaska.
The first half of the 3 day trip runs along the beach that pins you next to the King Range and its peaks soaring 4,000 feet above the Pacific. The second half drops you into old growth forests and towering Redwood Groves that are deeply rooted in Sinkyone Wilderness State Park.
NIGHT 1: The Gathering
We arrived to Mattole Campground (North terminal of the Lost Cost Trail) with wide eyes and a strong feeling of complete remoteness. While the Aspire crew was getting camp set up and prepping our first dinner, the group of six runners, unprompted, wondered out to the beach to get a sense and a glimpse of what lies ahead in the coming days. Staring down the worn and weathered Lost Coast Trail, the winds shifted from anxiousness to excitement.
We stood small on the beach and begin our introductions, this is why we are here -
To connect to the land and with each other.
----------
Appetizers: Caprese, Dolmas, charcuterie plate, homemade bread-n-butter pickles
Dinner: Grilled Salmon, Portobello Mushroom, Zucchini, Rice Pilaf, Salad
Dessert: Cheesecake
DAY 1: MATTOLE CAMPGROUND TO SHELTER COVE
This is the iconic section of the Lost Coast Trail - A time machine that pulls you back to a different time and space. A wild 25 mile coastline section that drifts between rugged beach running and smooth, wildflower lined, single track trail along the beach line bluffs.
Twice per day, there is no Lost Coast Trail. Three different sections of the route vanish under the high tide. Knowing how to read tide charts and finding the intertidal zone crossings is the key to making this point to point run happen in one day.
*We waited for two hours for the final intertidal zone to reside. All was well as we napped and sipped whiskey.
----------
Breakfast: Brioche French Toast, Strawberries, Cream, Nut Butter
Appetizers: Steamed Mussels, Pear slices w/ Goat Cheese, Sesame Fig Jam
Dinner: Pasta w/ Italian Sausage and Vegetarian Sauce
Dessert: Pear Cake
DAY 2: SHELTER COVE TO NEEDLE ROCK CAMPGROUND
From Shelter Cove, the Lost Coast Trail transfers from beach to trail. The official trail begins again after a steep, 5 mile road with blind curves from Shelter Cove. We opted for the "safety shuttle" to the trailhead, rather than having folks run on the road. From there we descended 10 miles through old growth forest and popped out to find ourselves high above the coastline with our digs for the night off in the distance. Surrounded by a herd of local elk - A barn would be our sleeping quarters for the night. The shorter mileage day allowed us to soak up some sun, crack open a few drinks, and.... take a shower? Aspire rules.
----------
Breakfast: Pancakes w/ Pear ginger Sauce, Nut butters
Appetizers: Caprese, Dolmas, Salmon
Dinner: Burgers, dutch oven potatoes
Dessert: Dutch Oven Apple Crisp and Cream
DAY 3: NEEDLE ROCK TO USAL BEACH
Final Day: 20 miles - The final push to complete the Lost Coast was honest. It was a repeating pattern of acceding through old growth forest, towering Redwood groves, and pushing our way through overgrown, stinging nettles; then descending back down to the beach below. Repeat.
This route was relentless, but it always kept us engaged and wanting more. A few times we would pop out of the dense forest and the coastline would emerge, letting our eyes trace the coastline further south and wonder how long we could actually continue past the end of the Lost Coast Trail. However, once we found out that tacos and margaritas were waiting for us at the end (it was Cinco de Mayo!), the conversations became less about how many miles we could pile on past the route and more about what kind of toppings we'd be piling on our tacos.
----------
Breakfast: Breakfast Burritos, w/ bacon-n-eggs and avocado
Appetizers: Edamame, Dolmas, margaritas
Dinner:Tacos meat and veggie
Dessert: Brownie Brittle
The Lost Coast is definitely a place every trail runner should add to their MUST DO list of trails to run and explore. It was a trip and experience unlike any other. We found a little more of ourselves on the Lost Coast. It striped away the pressures of racing and fills you with a different kind of physical and mental challenge. A supported trail running adventure provides a different kind of pace and movement, and will undoubtedly provide you with bonded friendships forged over long miles and bottomless margaritas.
----------
Aspire Adventure Running will be offering an amazing retreat with their excellent spreads of food, talks/discussions, and incredible running in the mountains of Washington. The retreat takes place this September and is called, The Trail Running Festival and Symposium in the North Cascades.  
Runners of the Wild members will receive $100 off this trip along with a ton of other great deals from partner brands.  
Get notified when we open up Runners of the Wild team spots next week.