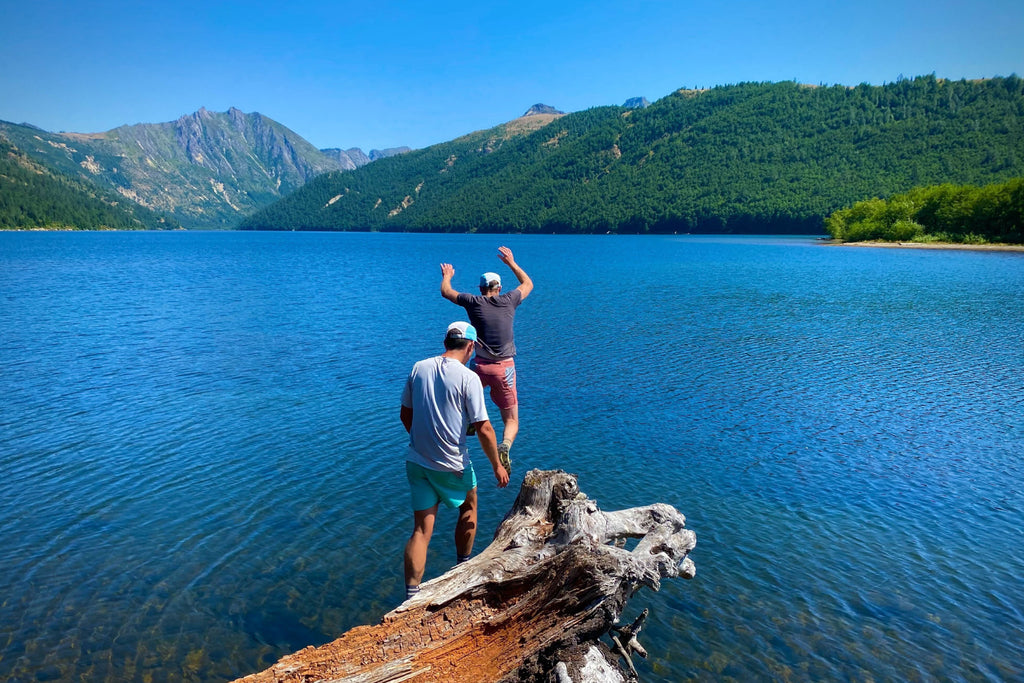 By Brett Farrell
One of my favorite summers in my life took place during high school when I spent many evenings running with a few buds from a friend's house then jumping in the lake just down the street from him. We would stay in the water until dark taking turns jumping off the floating dock, making up competitive games and tossing a ball around. Water has always been a signal to my brain that it's play time and it hasn't gone away with the many years that have passed since that summer.  I jump in a lake and I'm instantly feeling youthful and carefree. 
And adding water to the end of a run is even better. It feels like the perfect way to bring your body temperature toward baseline while taking in nature's bath. We added the Run and Dip Challenge to our Summer Run Rally to get more people in on the fun. 
We sought out our summer run and dip to be in the Mt Margaret Backcountry. Thomas, Mack ( Territory Run staff) and I were course marking for Daybreak Racing's Backcountry Rise 20 miler and it was going to be a warm day. We began at 6am at Coldwater Lake which would later become our perfect finishing swim spot.  It was forecasted to reach 97 that day so we were trying to beat as much of the heat as possible. Although we were struggling to stay warm as we were getting ready to go, after the first quarter mile we could feel the day's heat beginning. 
This area is known for being in the blast zone of the 1980 Mt. St. Helens eruption. Once you reach the top of the treeline you start to get views of rocky mountains, alpine lakes and a  landscape blanketed with fallen weathered trees frozen in time from 1980.  
The views kept us distracted from the increasing temperature until we lowered into the dry dusty trails towards Johnston's Ridge. It felt like a desert and the sun was in full force. We were low on water and I was dreaming of a food cart at Johnston Ridge that Thomas told me is sometimes parked there selling cold drinks and pretzels.
It was a hell of a moment when we saw the truck bustling with people ordering grillables. We got some pleasant shade and refueled until we were content. 
The ridge is named after David Johnston, a volcanologist who lost his life in the 1980 blast from a pyroclastic flow.  He was posted at the spot now known for the Johnston Ridge Observatory. When you stand in the area looking at Mt. St. Helens with its open mouth facing north its hard not to imagine what it would be like to see a cloud of rock, gas and steam rushing toward you as it was for the young 31 year old, Johnston. 
It is truly a marvel to see the volcano and its surrounding area especially when you learn of the history of the blast and all that the eruption engulfed. The area lost its plants, trees, animals, fish and even human life. And now it is full of new life growing up around the laying trees. We saw a large herd of elk basking in the morning sun, we picked huckleberries right along the trail and took our time looking for wild strawberries.  
The rest of the run gradually lowers you back down to Coldwater Lake where we began and the thoughts of its cold water was keeping me energized. 
When we found our spot to enter the lake we leaped in fully dressed with shoes still on. We floated around taking in the perfectly refreshing lake water and the surrounding views as my body temperature slowly lowered. I felt the playful spirit come back to me. The cares of the world float away in a lake like this.
I could have stayed in the water for hours.