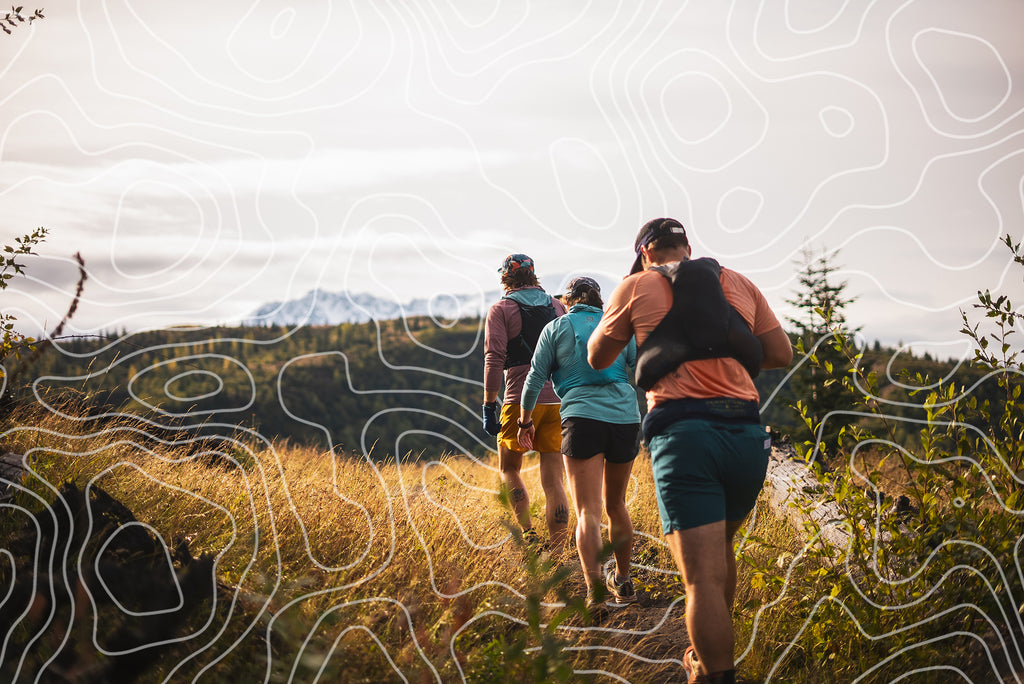 By Mack Robertson

As smart phones have improved, so too have GPS mapping apps. At this point, I feel that there's really no excuse to not be using one of these apps. They provide a crucial safety net for trail runners- allowing you to safely explore new areas. In this article, we'll take an in-depth look at three prominent GPS mapping apps - Gaia GPS, ON X Backcountry, and Strava. While these three certainly aren't the only options available in this space, they are some of the most popular and best-loved at this time. We'll evaluate their advantages and disadvantages, pricing plans, features, and user-friendliness. The most important feature on any of these apps is the ability to view maps offline. As trail runners, we often explore areas without reliable cell reception. While many of these apps offer a free or "lite" version, the offline map feature seems to be universally reserved for paid subscribers.

I should also mention that while most of these types of maps allow you to record your runs within the app, we will not be reviewing this functionality. For best results when recording your runs, we recommend a GPS watch as the accuracy will be much higher.

Gaia GPS
In the past, Gaia GPS was the clear leader of GPS apps for trail runners. However, in recent years, it has stagnated- offering little in ways of new features or improvements. Here's a more comprehensive exploration of its merits and drawbacks:

Pricing Plans:
Gaia GPS Premium: Priced at $39.99 per year, it includes a huge number of map layers, all available offline.
Pros: Gaia GPS boasts several strengths, including an incredibly extensive map selection that encompasses topographic, satellite imagery, and specialized maps that include smoke, cell reception and weather forecasts as well as historical maps. You can download maps of an entire area for offline use. I, for example, have downloaded a basic map layer for the entire states of Oregon and Washington. There have been numerous occasions where I was unexpectedly turned around without cell reception and can't imagine not having those maps available.

You can blend multiple map layers together to get a fuller picture of the area you are heading into. For example, some trails and water sources are not always listed on every map. Being able to overlay multiple maps gives you some more perspective. Moreover, it provides offline map functionality, an essential feature for remote trail running. The app allows users to create detailed tracks and waypoints, making it a valuable tool for seasoned trail runners.

Cons: My biggest complaint with Gaia is that it hasn't innovated. Five years ago it was the best thing available, in my opinion. In those past five years, I can't name a single feature that has improved. In fact, the user interface seems quite a bit clunkier and glitchier than it had been in the past. You can't build routes when you are offline. Or at least, not very accurate ones. When building a route with reception, you can draw points and the route will "snap" to the nearest trail giving you somewhat accurate distance measurements. When you're offline you can only draw straight lines. This is fairly insignificant, but if you've ever been in that situation where you really want to know how many more miles you have until the finish or your next water source, it can be annoying that you can't measure that out on the fly without reception.

ON X Backcountry

I'd heard of ON X Backcountry a few times earlier this year. In order to write this article I decided to download the app and test out its features with a free seven day trial. Immediately upon opening the app it felt like I had just traveled ten years into the future when compared to Gaia's interface. There's several things that stand out to me that make this app seem so cool. Here's a closer look:

Pricing Plans:
Premium Membership: Priced at $29.99 per year
Elite Membership: Priced at $99.99 per year, this plan offers complete data on private land ownership. For most, the Premium membership would be plenty.
Pros: One of the biggest improvements that ON X Backcountry makes upon Gaia's maps is the ability to view the maps in 3D. This is such a cool feature and gives you an immersive view of the area. I'm also impressed with the level of detail when you zoom into the map. I tend to prefer using the satellite map overlay and it's incredible how good the map quality is. If you've ever played around on Google Earth, it's akin to that. Just like Gaia, you can download maps for offline use. It allows you three different levels of detail: Low, Medium and High. It also has map layers for wildfires and air quality. The navigation within the app is very intuitive and fairly seamless. Uploading a GPX file is easy as well.

Cons: Just like Gaia, you cannot build accurate routes when in offline mode, even with maps downloaded. It also has far less maps to choose from compared to Gaia.

Strava

Strava, primarily a social fitness app, has made some surprising investments to their mapping in the last few years. So much so that I'm beginning to consider it a real potential competitor to apps like Gaia. It distinguishes itself with its 3D maps and aggregated trail use data. Here's a closer look:

Pricing Plans:
Strava Premium: Priced at $11.99 per month or $79.99 per year
Pros: Strava's 3D maps offer an immersive experience, allowing users to visualize their routes in a unique way. The social aspect of this app actually provides an unexpected advantage over the other mapping apps- heat maps. A heat map is aggregated, anonymous data of trail users that shows the popularity of an area or trail. I find that this feature provides unique and valuable insights when planning a route. For example, if the trail has little to no use on the heatmap, I can expect it to be a potentially unmaintained, overgrown or even an abandoned trail. I've also found it useful to discover new trails that I had no idea existed. Strava's ability to suggest a route is also a cool feature when exploring a new area. You can select the distance, surface and terrain and it will give you a handful of suggested routes that you can then download. Just like Gaia and ON X, it offers the option to download routes for offline use.

Cons: Strava's offline map functionality is relatively limited compared to Gaia GPS and ON X Backcountry. For example, while you can download a route for offline use, you can't actually download whole areas (that I'm aware of). This alone would make it hard for me personally to use this as my primary mapping app. It also has the frustrating hassle of having to be on the desktop version of the website in order to upload a GPX file into Strava. The other maps you can do right in the app from your phone. The subscription fees, while not exorbitant, are certainly more than you would be paying for Gaia and ON X Backcountry combined. However, I think this is warranted as Strava is really more than just a mapping app. While I probably won't be using this app as my primary GPS Mapping app, I'm very excited to see what future improvements they make to it. It has a lot of potential to be the best option available within the next few years.

For my money, ON X Backcountry seems to be the clear winner of the apps I looked at. So much so that since researching this article, I have canceled my Gaia subscription and instead subscribed to ON X Backcountry. In 2021, Gaia was purchased by Outside and since then it just really hasn't kept up with the market. I think Strava truly has the potential to be the ultimate mapping device for trail runners, but as of now, it is missing a couple of crucial features.